Before 1980, Zhangjiajie is an isolated place, the city itself used to be named Dayong, and has a recorded history dating back to 221 BC. Human beings lived here along both banks of the Lishui river (the mother river in zhangjiajie), now within the boundaries of Zhanagjiajie City. The history of civilization in this region dates back to 100,000 years ago, rivaling such famous sites as Xi'an, Beijing and others, so Zhangjiajie not only has abundance natural tourism resources, but also possesses unique and colorful cultures, there are some popular cultural attractions in Zhangjiajie.
Tujia Folk Garden

Located in the south of Zhangjiajie City, Zhangjiajie Tujia Folk Garden is comprehensive travel service, which provides tour, performance, artworks exhibition, accommodation, meal and entertainment.
★The Fast Facts on Tujia Folk Garden
■ Chinese name: 张家界土家风情园
■ Location: Nanzhuang Road, Yongding District
■ Opening Time : 8:00am--17:00pm
Tujia Folk Garden is a masterpiece of nature and manmade. With woodcarving on the windows, flying eaves and colorful wall, the construction in the park made from stone and wood is grand. The famous buildings are Tusi Town, Baoshou or Wave Hand Hall and Tujia Village. Chongtian Tower, which is 48 meters high, has 12 stories with special design, it has been awarded the certification of World Geniuese in 1999. The park shows Tujia customs, special stone, root carving, precious relics and old Tujia folk performance, such as Maogusi Dance and Copper Bells Dance.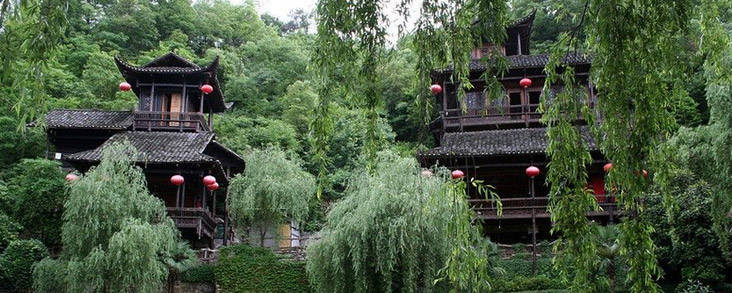 Tujia Folk Garden is also the Holy Land for the Tujia People to do their daily worship, sacrifice & prayer and celebrate their many unique festivals, in keeping with the Tujia families's exotic customs of thousands of year's maturity. Most of the architecture in the garden uses stock and stone structure; it is magnificently decorated, with its splendid wall and traditional warped angle design, which is exquisitely refined. All the buildings here collect the quitessence of the Tujia People's history in the Greater Xiangxi region. It is a National Culture Scenic Spot which pulls the many different strands of Tujia Minority's cultivated culture together, such as warfare, aboriginal chieftain ( Tusi culture), architecture and other peculiar ethnic customs.
★ Nearby Attractions:
■ Tianmen Mountain
■ Puguang Temple

★ How to get there
You can take public bus NO. 10, No. 5 to reach Tujia Folk Garden, or take a taxi.

Good to know: There are 2 performances in the park everyday, one is at 10:00am and another is at 15:00pm, the entrance ticket includes the performance.
Furong Town

Furong Town that is seemingly ordinary village is originally Tuwang's capital in Qin and Han Dynasty, which called Youyang. But in the period of Five Dynasties and Ten Kingdoms, it called Xizhou. After the movie "Furong Town" was done in this place, so it was renamed "Furong Town".
★The Fast Facts on Furong Town
■ Chinese name: 芙蓉镇
■ Location: Furong Town, Yongshun County
■ Opening Time : 8:00am--17:00pm
Furong Town not only has a long history of the millennial town, but also is a tourism resort which integrally combines the natural scenery and ancient ethnic customs. It is one of the best attractions to seek peace and visit classicism and it is also the portal of Mengdong River scenic. The town is surrounded by green mountains and rivers. You will see winding path and Tujia Diaojiao floor by the river after coming into the township. Everywhere reflects the honest and ancient folk customs of the Tujia, which let all tourists are full of praise and enjoy themselves so much as to forget to leave. Furong Town not only has the beautiful landscape and rich ethnic customs, but also records a lot of Tujia political and military history.
★ Nearby Attractions:
■ Zuolong Grand Valley
■ Mengdong River Rafting
■ The Red Stone National Forest Park

★ How to get there
From Zhangjiajie: You can take shuttle bus in Zhangjiajie Bus Station to get to Furong Town, there are 6 buses running between these 2 places every day, it only takes you less than 2 hours to reach and the ticket price is 25RMB/PAX.
From Jishou City: Take shuttle bus in Jishou Bus Station, 2 hours riding to arrive in Furong Town.
Good to know: Furong Town is a small ancient town, 2 hours will be enough to visit it. The most popular snack in this town is Rice Doufu.

Dehang Miao Village

Dehang is located in the west of Jishou City, Xiangxi (western Hunan) and Tujia and Miao Autonomous Prefecture, the northwest of Hunan Province, and it is about 18 kilometers away from the downtown. Dehang is in the subtropical monsoon climate zoon, and has four distinct seasons,the annual average temperature is about 16 ° C - 18 ° C. Dehang means "a beautiful valley" in Miao language. In the scenic spot, streams are crossing to each other; deep valleys, spectacular waterfalls, grand mountain ranges, ancient trees and special flowers, precious birds and animals are everywhere. Most people live in Dehang Village are Miao People, and they speak Hmong language, wear Miao clothing, like singing songs very much. They get up to work at sunrise and retire at sunset. Just have a peaceful life in such a beautiful place.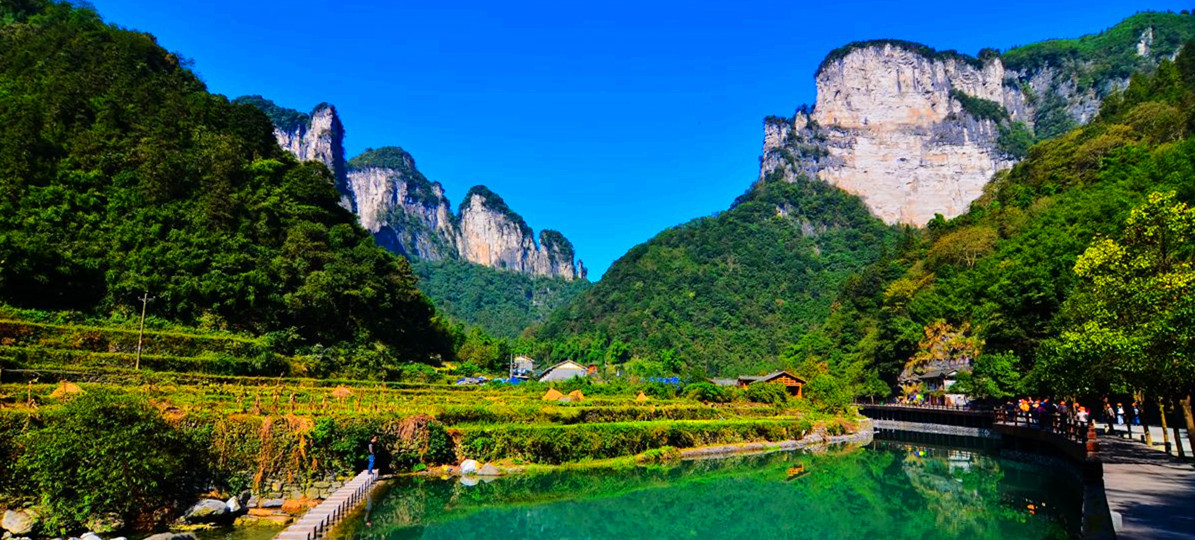 ★The Fast Facts on Dehang Miao Village
■ Chinese name: 德夯苗寨
■ Location: Tujia and Miao Autonomous Prefecture in Xiangxi
■ Opening Time : 8:00am--17:00pm
The Miao People believe that a supernatural power in everything around them decides their fate. They also believe that Everything that moves or grows has its own spirit. They worship the sun, moon, lightning, thunder, fire, rivers, caverns, large trees, huge stones, and some animals. Main customs of Miao People are Miao Dance Party, Miao Drum Dance, See Guests Off with lights and so on. The most popular scenic spots in Dehang are: Yuquan Door, Three Sisters Peak, Guanyin Cave and Camel Peak.

★ Nearby Attractions:
■ Zuolong Grand Valley
■ The Red Stone National Forest Park

★ How to get there
From Zhangjiajie: You can take train from Zhangjiajie to arrive Jishou Railway Station and then change to take shuttle bus to get to Dehang Miao Village.
Good to know: There are some guest houses operated by local people, which can be quite rudimentary. You need to hike around 2 hours to see the waterfall in Dehang Grand Valley.
★ How to plan a culture Tour