Zhangjiajie is an ancient city with a history of five thousand years. In the past, it was called Dayong. In 1982, central government built the first national forest park here and named it Zhangjiajie National Forest Park. Zhangjiajie is home to three major ethnic groups: the Tujia, Bai and Miao people, which together make up approximately 70% of the local population. These people still retain much of their traditional culture, including language, festivals, clothing, and architectural stylese. The long history of many minorities and their folk customs such as marriage customs, singing and dancing together, blended with modern culture, all contribute to the unique charm of Zhangjiajie.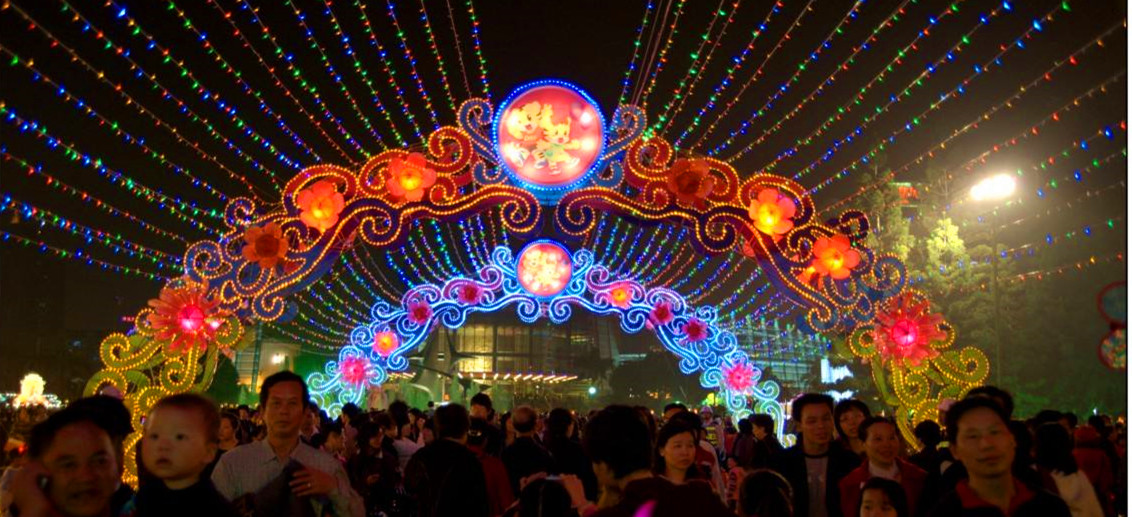 ★ The Lantern Festival
In recent years, Zhangjiajie city regarded the Lantern Festival as outstanding non-material cultural heritage to protect, as the unique cultural activities of a mass to inherit, and Zhangjiajie city insists on innovating on the inheritance and developing in innovation. The Lantern Festival has gradually become one of the five famous culture brands, and the general public and foreign tourists are fond of it.
The Lantern Festival of Zhangjiajie city in 2013 used "Beautiful Zhangjiajie, Revel in the Lantern Festival" as the theme. Compared with previous years, its scale was grander, and its content was richer. The Lantern Festival of this year titled "national brand", mainly exhibited part of intangible cultural heritage items of Zhangjiajie, highlighting its uniqueness. The majority of people in the holiday period can not only see the "Jinshekuangwu", "beautiful Zhangjiajie" and other characteristics lantern shows, but also can enjoy folk art performance that the many artistic team brought. We can spend the Lantern Festival together.
Notes: The Lantern Festival is held on January 15th in lunar calendar, which is one of the most important festivals in Zhangjiajie, more than 300,000 people enjoy it and the cars are not allowed to enter the main street on that day.

★ Folk Songs
Before 1980s, Zhangjiajie was almost an isolated place, but Zhangjiajie folk songs have a long history, they originated from the production of labor in the primitive farming period. Their main artistic style is simple, funny, humorous and honest. After exercising for thousands of years. Among which Sangzhi folk songs are the most popular one, Sangzhi folk songs show the unique artistic charm, and have high social value and artistic value. In addition, the special singing skills of Sangzhi folk songs greatly enriched the folk singing theory and provided a unique example of vocal music.
Folk songs have ditty, work songs, etc. Folk songs contain the expression of joy and anger, the longing of bright and the pursuit of a better life. The ways of singing have solo, duet, chorus and so forth. Sangzhi folk songs can express different feelings. They have graceful and lyric songs, bravura work songs, and passionate revolutionary songs.The singers like singing songs that mix technique, the content of the lyrics, national language, and local characteristic, and they are good at singing a variety of different thoughts and feelings.
Sangzhi folk songs have been praised by Zhou Enlai, Liu Shaoqi, Deng Xiaoping, He Long and other party and state leaders.The representative music of the folk songs in Sangzhi have: "Chestnut bloom a line", "four seasons flowers", "hanging lamp at the door", "building lampstand on Masang trees" and so on. They had become a treasure house of folk songs in Chinese classic.
Notes: Folk songs play a very important role in people's daily life. On march 3,there will be a folk song festival in Zhangjiajie, the young boys and girls will stay together to find their sweetheart by singing folk songs.

★ Tujia Minority Culture
■ Tujia Crying Marriage
There is a rule that Tujia daughters get married have to cry, it requires the crying sound must be moving and loud. Of course, there are special "Weeping Songs", which are traditional crafts. Tujia girls from the twelve-year-old must began to learn sing weeping songs. In the past, girls are not allowed to get married when they were not cry. And now, the weeping-marriage customs only happen in the remote cottage. Tujia daughters get married have to cry, when the crying sounds move the people and touch girl herself ,people all think she must be a smart ,kind and good wife.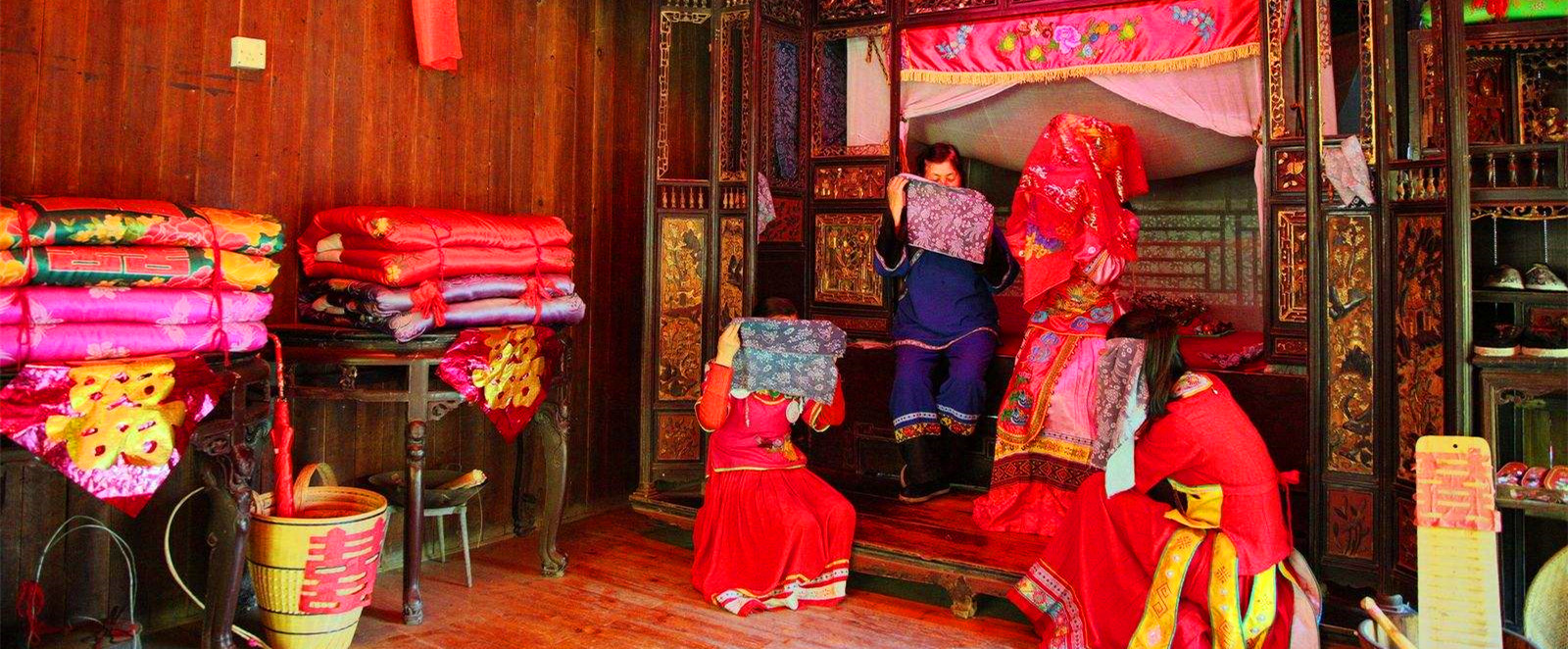 Weeping will be the climax of the day when bride get married. The day before they got married, neighbors, relatives and friends will come to give congratulations. The bride will invite her nine best unmarried companions to accompany the bride crying, called "ten sisters meeting." These nine crying girls will play an important role to bride , so whether they lived near or far, regardless of wind and rain, the bride's family will sent the car to pick up the girls .After Ten sisters gathering, the bride's family will put together two square table, place them in the middle of the main room, girls who are older than bride will sit at the main seat. And peers will sit on both sides of the bride. The crying contents are mainly containing talk about sisters friendship, but also to encourage and comfort the bride.Cry until midnight, the bride's family invite ten sisters to have supper, in order to thank to nine sisters' company. Under the parents and matchmaker's marriage-arrangements , arranged-marriage are so common at that time. So the bride often complaint about the matchmaker and express their dissatisfaction with a customary marriage.
Why are the girls crying before they get married ? What are they crying for? This is a very sense rituals in life, but also bring a great interests for marriage customs.There is a saying: "People no hurt no tears." Why they cry? Because in the old institution of marriage, the girls(especially working class family ) are always victims of "to be threw" (sold) to her husband , and they are under the sorrow of physical and psychological harm. Thus, the Xiangxi girls will cry before they get married, they want to cry ,they want to shout . so, weeping songs is the best means to express their feelings.
Notes: As the development of society, now it is hard to see Crying Marriage performance in Zhangjiajie City, the easiest way to see it is you can enjoy the charming of Xiangxi Dance Show in Wulingyuan Downtown which contains the Crying Marriage Performance.
■ Tujia Clothing
According to local chronicles, the Tujia people - both men and women wear a short upper garment and no shoes. They cover their head with a cloth and tend to dye their clothes in a variety of colors. Formerly, theTujia minority wore handmade clothing, which was dyed blue and black. Their clothing style is characterized by the notion: same in trousers, but distinct in the upper wear almost the same trousers-a kind of skirt with colorful trim, which in the late years has been changed into a kind of pants with two or three colorful stripe adorning the trouser legs. The top part of the Tujia dress is quite different for men and women, and also for the young and old, however. Usually a young man will wear a short jacket with many cloth buttons down the front. A young women prefers a special top with buttons down the left side, large, short sleeves and a low cut collar. For the part, the elderly like to dress in a more bulky upper garment with buttons down the front, three colorful stripes can be found along the edges of each upper garment.
■ Festivals
The Tujia people observe three major festivals each year, the Spring Festival that falls on the 29th day of the 12th lunar month, the 6th Lunar Month Festival on the 25th day of the 6th Lunar Month in memory of a mass migration of Tujia people in history, and the 10th Lunar Month Festival that falls on the 1st day of the 10th lunar month. The whole community goes outside to dance and sing on these three grand occasions.

★ Miao Minority Culture
■ Silver ornament
There are more than 20 minorities live in Zhangjiajie, Miao Minority has the second largest population in Zhangjiajie and Fenghuang, As a cultural phenomenon, Silver ornament was ever welcomed by Miao Minority, wherever they are, silver ornaments are always considered as the light-spot and human landscape of them. The Miao nationality uses the silver ornaments in many ways, but mainly in three aspects: Firstly, they use it for tokens of love. Men should give bracelets, earrings, necklace to their lovers as tokens. Secondly, giving it to the new-born child. Children are parents' hope, and the silver ornaments such as hat, hand bracelet, feet bracelet, silver bells and "Rohan" buddha are often made of new silvers, which means longevity with wealth and honor, and avoiding evil things. Thirdly ,it is used for blessing the elderly for longevity and mourning them when they died. Often, some old men keep the silver ornaments in private when they are alive, so no one will know where the silvers are when they died.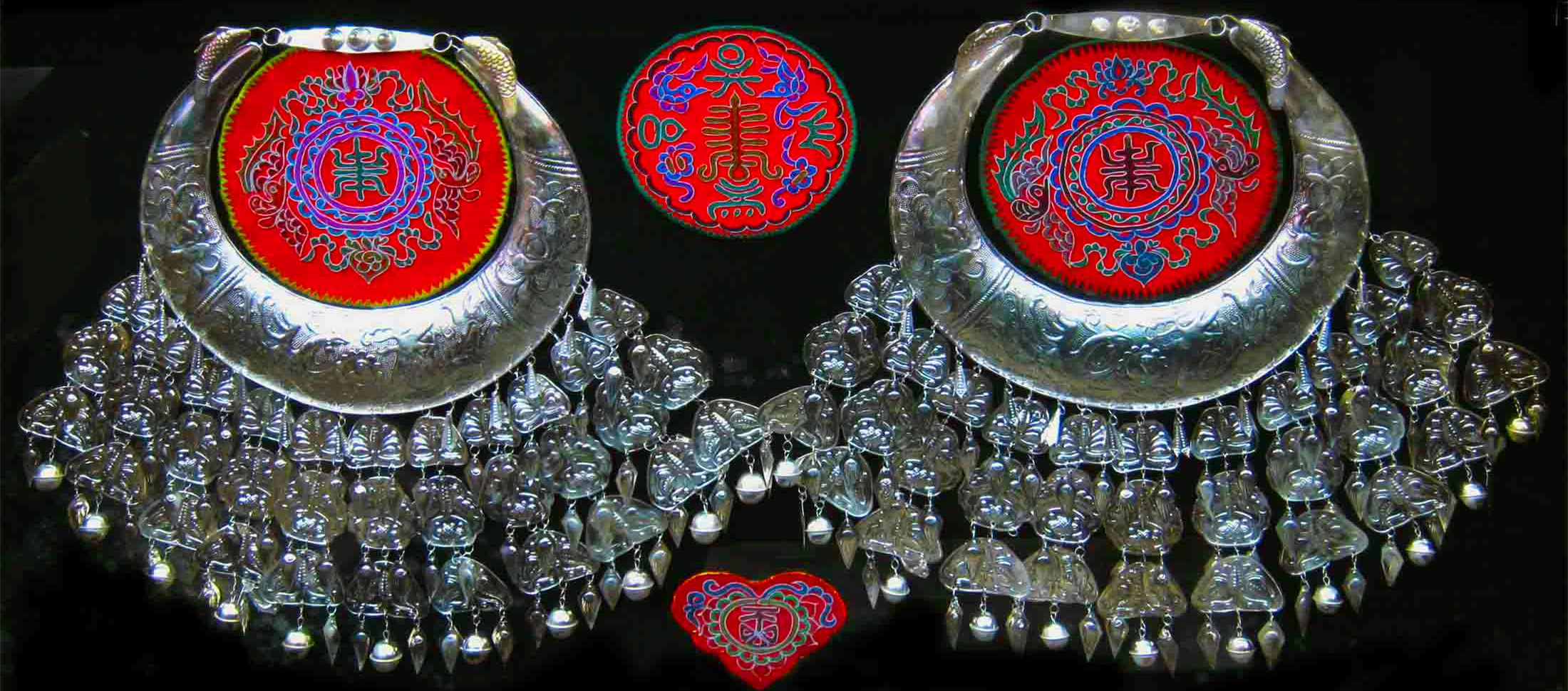 ■ Religion
They believe that everything in nature has a spirit, which incombination are mighty enough to control their lives. Every time there are disasters, they will invite a wizard to perform ceremonies designed to drive out the devil ghost. They worship their ancestors so much that memorial ceremonies are very grand. Sacrifices such as wine, meat, and glutinous rice are costly. Some also believe in Catholicism or other Christian religions.
■ Crafts:
They are very skilled at handicrafts, such as embroidering, weaving, paper-cutting, batik, and jewelry casting. The Miao embroidery and silver jewelry are delicate and beautiful. From hats, collars, and cuffs to skirts and baby carriers, the patterns on their clothes are extremely colorful, complicated but with clean lines. Girls of around seven will learn embroidering from mothers and sisters, and when they become teenagers, they are quite deft.
■ Festivals
Divided by regions, they celebrate their festivals at different times, but they all have many, like the Dragon Boat Festival, the Huashan Festival, the Pure Brightness and the New Rice Tasting Festival (Chixin Jie). Among these, the Miao Spring Festival is the most important one that is held during the lunar ninth to the eleventh month. The New Rice Tasting Festival is worth mentioning. To express their gratitude for the harvest, they will stream the newly ripe rice, brew wine with new rice, cook dishes with newly-picked vegetables and freshly caught fish. The Lusheng dance is a unique musical performance of the Miao ethnic minority during nearly every celebration. While playing the lusheng, a kind of wind instrument, they dance in demanding patterns, and sing to each other.

★ Bai Minority Culture
■ Bai Clothing
One of the distinctive features of the Bai people is their adoring for white. Both men and women wearing white coat, it is a quest for Beauty. As an old saying goes: "if you want to look pretty, just dress in white". The white cloth are known as the "family cloth" in the past. The Bai people grow their own cotton and after their spinning, weaving and rinsing cotton with indigenous method, the family cloth was made. Generally speaking, men usually wear the white turban of five feet, seven or nine feet. Wearing white coat named Han Yi, full shoulder of the blue mandarin jacket, tied at the waist peach pocket with the withdrawal of the ear pockets. Their trousers have a blue wide leg pants. Men often wear white socks and shoes whose name is Tianguan in Chinese. Women on his head usually with white embroidery and two earrings. What's more, there is a bracelet or a ring on their hands. Sometimes they wear embroidered aprons with ribbons tied to it. On their left chest, there is three or five silver toothpick. Under the blue wide trousers are their foot wrapped around a white strap. In addition, Bai people are fond of wearing embroidered pointy shoes. The non-married women's hair is combed with a hairpin. If hair is laid on the back of the head, we call it "Baba ". If laid on the top of the head, we call it "Gaobaji" in Chinese. There is a net upon the hair, crossing the hair lies a hairpin. Children's clothing has a lot of embroideries. They have peripheral apron and a tiger hat. Their necks usually decorated with rings or locks. It is always easy to see silver dotted with the hammer, the bell, shoes, axes, toothpick on their wrist.
■ Festivals
"Ninth Day's Meeting" is usually celebrated on the the 15th of the first month in the lunar calendar in Bai Minority villages. On this day, the surrounding Bai people will dress-in after breakfast to participate in the annual festival. Furong bridge is a famous village in Zhangjiajie.The population there is more than 13000. Most of their first name is Wang, which was the first immigration of Wangpengkai's descendants. Bai people here migrant from Dali Yunnan. The ancestors, Wangpengkai mountain found here is a fertile land and finally chose the quiet wilderness countryside to built house together with ChenJi and ChenLiang. For hundreds of years, their children and grandchildren here have made a great harvest and created the immortal history and culture with their own wisdom. In order to make brothers and sisters get together, they make the 9th of the first month in lunar calendar as "Ninth Day's Meeting". Every year they will celebrate it and now form a special local custom.