Fox Lady Show

The Fox Lady Show is drawn from a folktale in Hunan" Liuhai's Firewood Cutting- a love story between the Foxy Lady and Woodman", which is known as the world's first real-scene musical drama with the high mountains and deep valleys as the stage background.
The whole performance of Tianmen Fox Fairy is divided into five parts, including the King of fox's choosing imperial concubine, meeting on the mountain, lovesickness at night, betraying to the King and waiting. The show tells a romantic love story about a fox fairy and an ordinary woodman that makes a living by chopping woods. The fox fairy is quite kind and extremely beautiful. She never hurts human before. She was forced to marry the king of the fox empire, who she does not love at all. She gradually falls in love with a kind and diligent woodman that used to save her life. So she uses her magic power to shape herself into a human. She slides into the man's house to finish all the housework and make a delicate dinner for him every day. The woodman finds out the truth finally and he also falls in love with her. They begin to live a happy life together. But when the other villagers know the woman is actually a fox, they can not accept it. They reject to the love story of the man and the fox because a lot of villagers and children were hunted by fox fairies, as well as the trouble made by the fox empire. Moreover, the King of the fox empire can't accept the betraying of the fox fairy. What about the ending? You should really go to find out yourself.
During the show, you can appreciate the flying waterfall, the big moon; you are able to hear the folk songs, which are performed by 100 local singers with silver ornaments; you can enjoy the dance at the same time.

Mastermind & Chief director: Shuaiyuan Mei, Founder of China's landscape outdoor scene performance. The General Producer on such Series of Outdoor Scene Plays as " Mt. Jingangshan", "Proud Son of Heaven. Genghis Khan", " Chinese Mt. Taishan. Grand Ceremony on Offering Sacrifices to Heaven" and so on.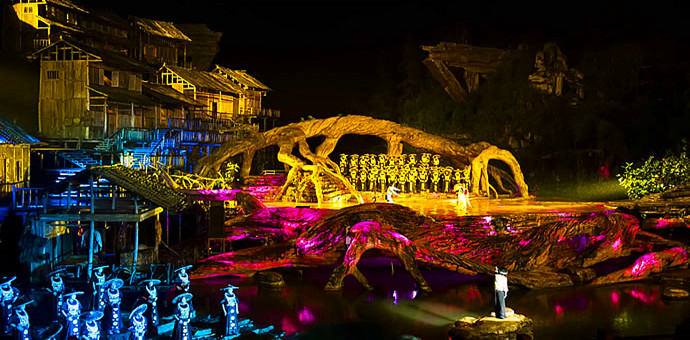 ■ Location: Tianmen Mountian Valley
■ Opening Time : 20:30--22:00(from March to December)
■ Adimission Fee: 238RMB/PAX; 588RMB/PAX for VIP ticket; 888RMB/PAX for super VIP ticket

Good to know: Since this open-air drama is only performed at night, when the weather gets cold you had better bring a coat to enjoy it. It may stop perform if the rain is too heavy in the evening.

How to get there
The theater of Fox Lady Show is on the foot of Tianmen Mountain, about 5 kilometers away from Zhangjiajie City. You can take public bus No.5 at Tianmen cablecar station or hire a taxi to arrive. And you'd better to stay in Zhangjiajie City if you want to watch the show.

The Charming of Xiangxi Dance Show

Located in Wulingyuan Downtown and near to Pullman Hotel, the theater of Charming Xiangxi Dance Show is the first theater in Zhangjiajie which can hold 3000 population. Founded in 2000 and with an investment of more than 220 million RMB, this show has become a famous tourist and cultural performance entity. After 15 years' development, it has gradually become a world famous brand of cultural tourism and has enjoyed a high reputation in China mainland, Hongkong, Taiwan and other Chinese region, as well as South Korea, Japan, Southeast Asia and other places. Each year, more than 2 million visitors enjoy this wonderful show, and you'd better ask your guide to book the show tickets in advance in case of selling out.
In thirteen years, "The Charming of Xiangxi Dance Show" succeeded in inviting a large number of folk artists from the mountain villages and exhibited the "San Min" culture to the audiences which has been hidden deeply in the mountains and on the verge of extinction. Charming Xiangxi worked with Guang and Fenghuang Theatre, Hanan Folk Dance Troupe and Hunan Song and Dance Theatre to sublimate the folk music based on the retaining of the original ecological folk culture of Great Xiangxi. It integrates the traditional folk art, craft with modern sound, light and electricity technology perfectly and ultimately creates "Fire & Drum", "Eternal Border Town Cui" and "Chasing Love in Xiangsi Building" etc.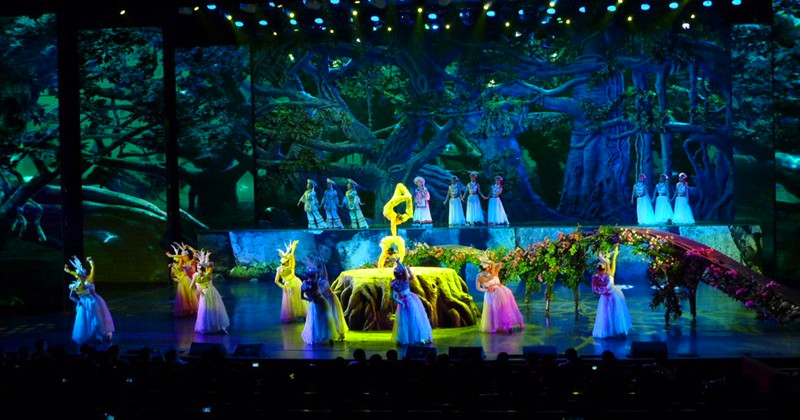 ★The main list of this show
Cring wedding
In western countries, parents often teach their children "do not cry", especially in the case of the boys. In sharp contrast, Tujia girls are taught the art of crying by their elders when they are very young. As they fetch firewood on the mountains or wash clothes along the rivers, in the groups of three or four, the youngsters gather and practice weeping and sobbing in various postures and with many gestures. Ten to fifteen days ahead of her wedding, the tujia bride cries with deep emotion one or more times each day, and this continues right up to the actual day of matrimony. This action is called "Wedding Crying". And some women actually become famous for their excellent performance at the wedding, acting in the role of teachers for the young ladies who are preparing for the marriage, or serving as an accompanying weeper for the bride.
Guigu Kong Fu
Guigu Kong Fu is the highlight of this show, As for the performances, they usually involve lying face down on sharp steel forks, among other amazing displays. Though the performances are exciting and well worth watching, I am afraid that they might be a bit too stimulating for some people. It was reported that during Zhao Jishus demonstration in Luxembourgs national theatre, two elderly ladies became terrified and fainted.
Walking Corpses
Walking corpses is the traditional custom of Miao in western Hunan. It is a kind of witchcraft and also said to be related to Zhu You. The rumors of corpse controllers were very popular in Qing dynasty. When people died in a strange land, corpse controllers would take their corpses to their hometown to let them rest in peace. Even though walking corpses in western Hunan has never gotten scientific validation or been confirmed by people, it has become a thriller movie-prototype. From then on, it became well known. Now, it is hard to see Walking corpses in Zhangjiajie, you can only see it in the theater of Charming Xiangxi Dance Show.
Chasing Love
While "chasing love" is performed, a collection of interaction conversations are added, such as " couples talking about chasing love", "love for a lifetime". And since the show "chasing love" is performed by Zhangjiajie "Charming Xiangxi Art Troupe", at CCTV Spring Festival Party, it has become a hot topic to discuss for many lovers. An incomplete statistics show that since February 10, Charming Xiangxi Theater has attracted nearly a thousand audiences per day, among which couples and lovers account for over 30%.
■ Location: Huajuan Road, Wulingyuan Downtown
■Opening Time : 19:30--21:00, there are 3 performances in the peak seasons: 18:00--19:30; 19:30--21:00; 21:00--22:30
■ Adimission Fee: 228RMB/PAX; 268RMB/PAX for VIP ticket; 398RMB/PAX for super VIP ticket
Good to know: This show is very popular and you'd better ask your guide to book the tickets in advance in case of selling out.

How to get there
The theater of Charming Xiangxi Dance Show is located in Wulingyuan Downtown, near to Pullman Hotel, it is very convenient to get to it if you stay in Wulingyuan Downtown, you can take a taxi or even on foot to reach the theater.

Misty Rain Phoenix Show

"Misty Rain Phoenix" is a magnificent folk drama, officially put on stage in the evening of 30 Mar. 2014 in the ancient Fenghuang City, which takes the Xiangxi landscapes and the local folk culture as the core, and plots the literary giant Shen Congwen's work "Border Town" as the outline of the story. The drama is back-grounded the Border Town character Cuicui as the main story line and combines the Xiangxi Folk features. The play, a total length of 75 minutes, is divided into six chapters includes Antiphonal Singing, Love Chasing, Parting, Missing, Nirvana and Blessing.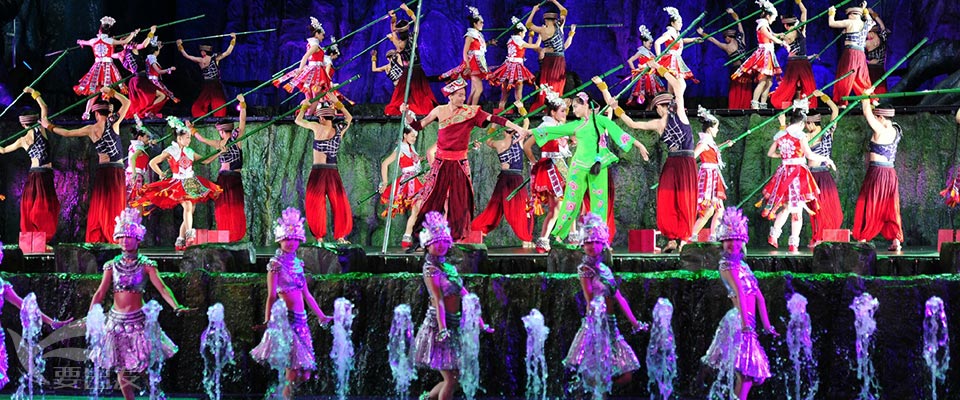 Ye Wenzhi serves as the chief planner for the "Misty Rain Phoenix", for which the famous calligrapher Huang Yongyu wrote the play's name , and the overseas returnee Chinese music R & B new forces, creative genius Yarrondeny cheers for the music. Spending huge sums to build a forest theater, which is located in the rear of World Hotel Phoenix in Fenghuang County, can accommodate 2600 audiences. The stage is decorated with very cultural characteristics of the Miao batik cloth, radiation drape, combined with the strong beautiful Tujia Xilankapu pattern elements, with a sense of strong visual impact. Rolling mountains and flowing of the Tuojiang, dotted with houses on stilts, as if a smoke rain mist in the ancient Fenghuang City.
To restore the plot of the story, the chief planner Ye Wenzhi invited Yang Rongang to be the general director of "Misty Rain Phoenix", who ever served as the director of "impression Sanjie Liu", "impression of Lijiang", which are two plays under Zhang Yimou's impression series. Time-consuming for more than three years, the total investment of this play is about 1.3 billion yuan. The play, a total length of 65 minutes, is divided into six chapters includes Antiphonal Singing, Love Chasing, Parting, Missing, Nirvana and Blessing. It is in the form of stage performance and melodrama, melts the Xiangxi unique folk customs and sorcery organically, which is aimed to send a rich cultural connotation of audio-visual feast for the audience, let people appreciate deeply the Xiangxi Folk Culture.
"Misty Rain Phoenix" contains a form of dance, singing in antiphonal style, combining elements of special effects and stunt, full range using sound, electricity, light, water and other stage effect, the full integration of the splendor and omnia, elf dance and show romantic love in fantasy. Cuicui and Nuosong enjoy in flowers seeing, sometimes chasing the butterflies, sometimes run beyond the stage, sometimes dance in front of the crowd. Silver ornaments crisp, girls dance graceful, all of these are praising the beautiful town. The magnificent stage lighting, passionate sound effects, bring strong visual and auditory collision, let people exclaim again and again.
■ Location: Fenghuang Ancient City, near to Phoenix Grand Hotel
■ Opening Time : 20:30--21:30
■ Adimission Fee: 220RMB/PAX;VIP Ticket 580RMB/PAX

Good to know: You can buy discount ticket if you are student and have student card.

How to get there
Fenghuang Ancient City is a very small city, you can take pubic bus (2RMB/PAX) to Phoenix Grand Hotel or take taxi to get there, the theater of Msity Rain Phoenix is near to Phoenix Grand Hotel, about 200m away.