History of Zhangjiajie

The city itself used to be named Dayong, and has a recorded history dating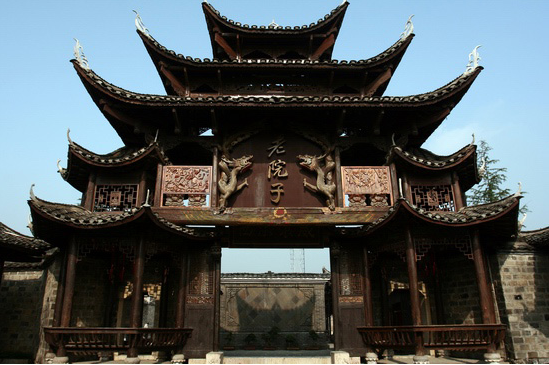 back to 221 BC. Human beings lived here along both banks of the Lishui river(the mother river in zhangjiajie), now within the boundaries of Zhanagjiajie City, very early during the Stone Age. The history of civilization in this region dates back to 100,000 years ago, rivaling such famous sites as Xi'an, Beijing and others. In 1986, the Academy of Chinese Social Science discovered relics of the Old Stone Age in Cili County, unearthing 108 articles of stoneware; these mainly included: tapered-form, hacked-tamped and plate-shaped wares. According to the archaeological experts' textual research, all of these wares were produced about 100,000 years ago. What's more, shortly thereafter, in 1988, the Archaeological Institute of Hunan Province found another relic of the Old Stone Age in Sangzhi County; they turned up 3 pieces of stoneware, which they estimated, were also fashioned over 100,000 years ago. Ten thousand years ago, those who lived within the boundaries of what is now Zhangjiajie City, employed fire to back pottery. Archaeologists have found more than 20 relics of this kind in Cili County, while in Sangzhi County, a black clay pot adorned with a unique design and dating back to ten thousand years ago was unearthed. In that period of history, such a pottery-firing technique was the most advanced in China. These sparks of culture in the fashioning of stone tools and pottery truly cast its wonderful light on the civilization of this region; however, it endured but a short while and then passed off the scene into the endless stream of history. This seems understandable in view of Zhangjiajie"s remote geographical position, its undeveloped land and river transportation, its mountains terrain making cultivation difficult, and its overall backwardness. For these reasons, Zhangjiajie has been labeled "the Land of the Savage Southern Minority" since the dawn of recorded history. Also , the people here have borne the names of "Wuling Rude People" and "Tujia Rude People" for generations.
● 1369:Dayong City was founded in the Ming dynasty
● 1982:Zhangjiajie National Forest Park was recognized as the first forest park in China
● 1992:Wulingyuan Scenic Area was officially designed as a UNESCO World Heritage Site
● 2004:Zhangjiajie Geopark was listed as a UNESCO Global Geopark
Origin of the name

The new name of Zhangjiajie City was adopted in 1994, after the National Forest Park in the Wulingyuan Scenic Area in order to give it more prominence and after this site had been designated a UNESCO World Heritage Site in 1992. The National Forest Park had been given the name of Zhangjiajie after the name of a small village located within its bounds, and now a popular tourist attraction within the park. The three-character name can be interpreted as follows: "Zhang" is a common surname in China; "jia" can be translated as "family"; and "jie" can be translated as "homeland", giving the completed translation of "Zhang family homeland." It has been reported that at least one tourist guide has said that the name may have been chosen to convey the idea or impression of "Open the family door to welcome the world", but this is not the locally-accepted and directly translated meaning of the name. The official version of its name is linked to a Han general, Zhang Yang, who resettled in the area after a suspicious Liu Pang, the Han emperor, started to persecute his friends and generals who had contributed to his becoming emperor. It was so named to signify that the Zhang family had set up home there.Literally, it meant High Mountains of The zhang family.
Big Activities

★ The World Aerobatic Flights Performances
Dec.11, 1999, the world champion of aerobatic flying was the first person to successfully fly through the Tianmen Cave, it caused a sensation at that time, with more than 800 million people tuning in to watch the show live and from that moment on Tianmen Mountain became one of the main focal points of the world. Mar 17-19, 2006, 'The Russian air force's Aerobatic flight performance' was held at Tianmen Mountain. Su-27 heavy- duty fighter aircraft and the Russian Air force added another miracle to Tianmen Mountain's catalogue.
★ Zhangjiajie International Country Music Week
Zhangjiajie International Country Music Week is hosted by Ministry of Culture of Hunan Province, Tourism Bureau of Hunan Province and Zhangjiajie Municipal People's Government, and organized by Yellow Dragon Cave Investment Co.,Ltd. The First Zhangjiajie International Country Music Week came off at Huanglong Cave Square from May 14 to 18 in 2009 in Zhangjiajie.

During the 2009 Zhangjiajie International Country Music week, 24 bands (6 domestic bands not included) from 19 countries had 31 performances on 8 different stages in 5 days. Enjoying the magnificent landscape of Zhangjiajie, tourists will expect a lot of fun with the tune of country music under the blue sky and surrounded by green mountains.

The 2011 Zhangjiajie International Country Music Week was unveiled in Zhangjiajie City on September 10, 2011. Themed with "Natural Heritage to the World, Country Music to the People", this international country music festival attracted 32 overseas and 8 domestic bands.

2013 International Country Music Week,themed "World's Natural Heritage, Our Country Music", the event was celebrated by 8 domestic bands and 22 international bands from 20 countries including Australia, America, Russia, India and Turkey. During the festival, nearly 300 musicians put on 32 performances in Huanglong Cave, Baofeng Lake, Tianzi Mountain and Xibu Ancient Street. These intoxicating country music feasts lured more than 10,000 overseas and domestic tourists.

★ The World Wingsuit Flying competitions

On September 24, 2011, The first World Wingsuit Flying competition was held in Tianmen Mountain, 9 wingsuit polites from 6 countries joined this race. The race course is approximately three-quarters of a mile long, with a 2,600-foot vertical drop. The race itself is just like a downhill ski race, except faster – and the racers "get air" every moment they're on the course. Their "runs" start when they leap into flight from a platform atop a 900-foot cliff at the mountain's summit, fly around a course marker platform on the ground below, then swoop down the mountain and under the tramway cable finish line before opening their parachutes and landing at the mountain's foot. Each athlete flies the course solo, and the fastest time wins. American Wingsuit flyer--Jeb Corliss jumped from a helicopter 6,000 feet (1,830 meters) above the Tianmen cave, flying towards it, and sailed right through the cave. Nowdays, The World Wingsuit Flying competition is held in Tianmen Mountain every year.
On March 17-19, "The 2006 Russia Air Force Aerobatics Performance" entered ceremoniously in Tianmen Mountain of Zhangjiajie, the Soviet-27 heavy battle plane and Russia air force warrior composed a world-shaking legend here once more.

In 2007, the 'Dawazi' challenge Tianmen Cablecar Rope (means walking on the high performance rope set between mountains); At the same year, a French man Alan Robert had successfully climbed up to the Tianmen Cave so he was called 'the French Spider Man' and from that many rock climbing competitions were hold at Tianmen mountain; Everything here makes Tianmen mountain a must-see attraction in Zhangjiajie.

★ The World's Longest and Higest Glass Bridge opens in 2016

Zhangjiajie Grand Canyon Glass Bridge is the highest and longest transparent glass bridge with a length 430 meters and a width 6 meters. It is 300 meters above the ground level and it can bear 800 persons standing on it at the same time. It was paved with transparent glass, in the middle of the bridge there is a bungee jumping platform which is the highest in the world. There is no steel structure in the bridge which is made entirely of glass. On August 20, the Glass Bridge opens to public, but it is closed after opening 10 days for safety upgrade. Luckliy enough, The Glass Bridge reopens on Oct 1, the tickets are limited and a maximum 800 are allowed on the bridge at one time, so you'd better book the ticket in advance.
★ The World's Bigest Bar opens in 2016

Yun Ding Club is a big comprehensive entertaining club,including opera house,performance & art center,KTV, bar and western restaurant with an opening-closing lotus dome with largest diamater around the world,360-degree panoramic luxury theater,fluctuation revolving stage and 3,800 seats.
Yun Ding Art Troupe contains 55 performers and keeps long term cooperation with the domestic and foreign artists from Russia, Ukraine, America,etc. The performance is very spectacular and unique, and it is up to 130 minutes with barely host, see inaccessibly in China and aboard. Yun Ding gained the popularity among the public science September 2016.