China's mountainous regios are known for eating strange food and the Hunanese are known for loving spicy food. Zhangjiajie comes through on both counts. The mountian's wide variety of mushrooms often work their way into the cuisine as do other ingredients known for their healing or heath boosting properties. As Zhangjiajie is a heavily toured area, many standard Chinese favorites are available as well. Most of food is quiet good but beware of the ubiquitous tourist trap. Enquire about the price before you order and beware of eating any expensive dishes that may contain endangered species.
Tujia flavor predominate with dishes like Tujia hotpot; deep-fried bee eggs are typical dishes. Tujia snacks such as Ge fen, rice wine, cold noodles are tasty. Tuanniancai, which means something like" yearly reunion", is traditionally eaten by the Tujia during the New Year, a time when they would reflect on and pay tribute to their ancestors. Other local specialties include wild rabbit, snake soup and dog meat hotpot. For lovers of spicy food, try the wild mountain pepper beef.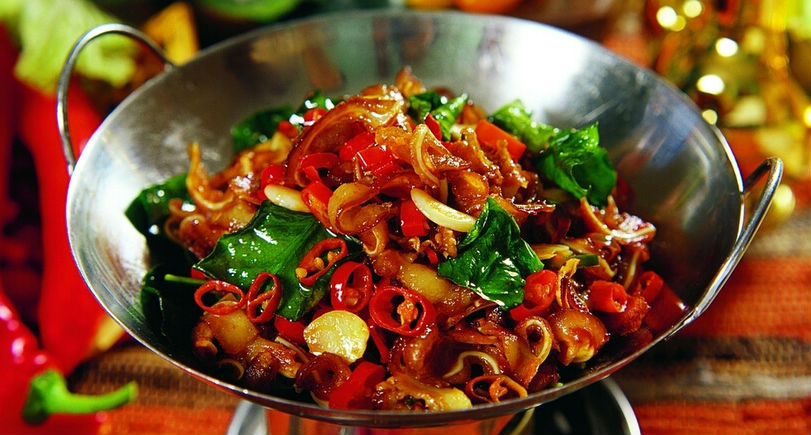 Sanxiaguo is one of the most famous dish of Zhangjiajie cuisine. Sanxiaguo is divided into two kinds: the dry Sanxiaguo and soup Sanxiaguo. The dry Sanxiaguo has no soup and contains spicy flavor. You'd better not to taste it if you can not eat spicy food. The food of this cuisine is soft and easy to digest. The usual cooking methods for these dishes are flying and braising. These cooking processes make the dishes more delicious and healthy for the diners.Although this dish is delicious, it is generally unavailable inside the hotels in Zhangjiajie. You can only find it in some small local restaurants.

Smoking Bacon is very popular in Zhangjiajie. Approaching to every China`s New Year, people will kill the swine into three to five pounds a piece, with salt and various spices marinate for three to five days. When condiments soak into the meat, people hang it on the heated brick bed with stringy bamboo or rattan,and then with fireworks to dry it slowly.The better bacon can usually perceive more than half a year. If we use orange peel for smoking and baking, the bacon will with oil in red,and red in transparent.the color will holds more without the ash,the bacon should be clean, boiled, steamed, and sliced before cooking. It can edible not only for dipping in the sour pepper soup ,but also stirring--fry with the additional condiments. The fragrance is unique and famished look is also perfect as well.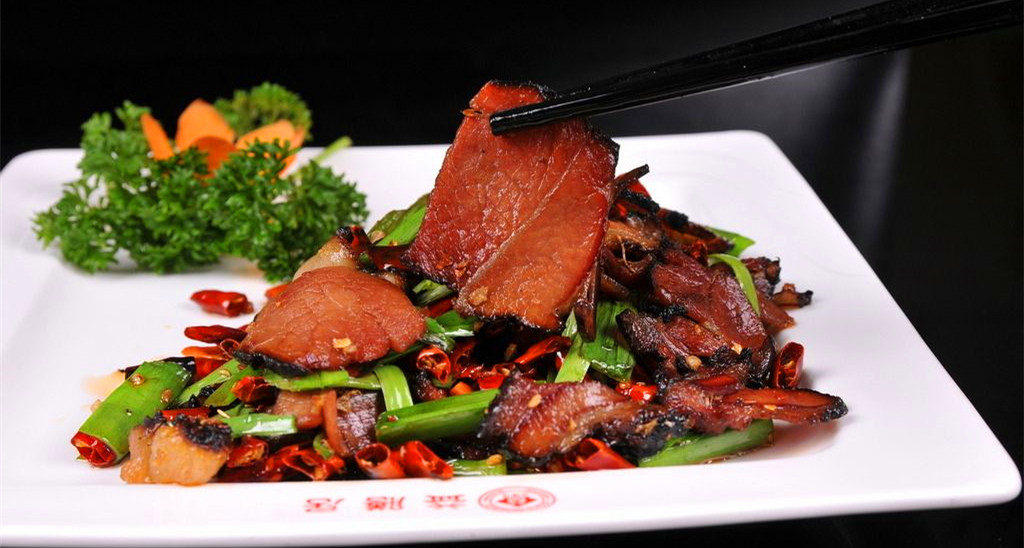 Tuannian Dish is a boiled dish made with radish, bean curd, cabbage, shallot, pork, and chili. It is not only delicious but also represents a good harvest, the reunion of the family, and the remembrance of the Tujia ethnic minority group's ancestors. Blooded Tofu is actually made from pig's blood and bean curd, which is fragrant and pairs well with wine. The Sour Fish is a cured dish usually made in summer. It doesn't taste fatty or smell fishy and can be stored for a long time. In addition to these delicious dishes, one soup should be mentioned here to add allure to a meal. This soup is called Gastraodia Tuber and Black-boned Chicken Soup, a healthy, secret folk recipe made from high quality Gastraodia Tuber and Black-boned Chicken.

Bandit Duck is a very delicious, popular and traditional food in Zhangjiajie. Speaking of Xiangxi Bandit Duck,many people wonder how could a duck be called as a bandit.It is really a very funny and strange name.However, if you know about the story about the invention of the course, you will not have such a feeling. Once upon a time,there was a women named Mrs Zhang in XIiangxi. Since she was good at cooking, she opened a small restaurant. However, the business was very poor because of desolate place and scarce people.Mrs Zhang raised a flock of ducks which laid few eggs and were so fierce that they often spoiled plants.When she drove ducks away from the fields, some words would often burst out,"You god dammed ducks, just like bandits!"At last, she grew so angry that determined to kill and cook them one by one.She made a decision to close the restaurant as soon as all ducks was eaten away.To Mrs Zhang's big surprise, her guests loved to eat the duck very much and came often. The reason for the popular dish perhaps was that the flesh of the fierce ducks was very fine, smooth and fresh as well as her excellent cooking skills. Every time her guest asked the name of the dish, she would respond to them casually,"This dammed dish? It is bandit duck."Unexpectedly, the name of the dish even add such a dish's popularity. Without dout,with a great many guests,the restaurant witnessed a blooming.

★ Highly Recommended Restaurants in Zhangjaijie
■ Master Hu Sanxiaguo
● Chinese name: 胡师傅三下锅
● Add: Ziwu Road, Sanjiao Ping, Zhangjiajie City
● Average price per person: 45 yuan
● Tel: 13974478518
● Transportation: Take bus 10 and get off at Sanjiaoping
It is classic restaurant offering Sanxiaguo, which is one of the most popular place if you want to taste the local food. All food in this restaurant is very spicy and oily.

■ Le Kou Fu
● Chinese name: 乐口福
● Add: Guyong Road, Yongding District, Zhangjiajie
● Average price per person: 65 yuan
● Tel: 0744-2117635
● Transportation: Take bus 7 and get off at Dayong Fucheng
Dishes in Le Kou Fu Restaurant taste good, and the price is quite reasonable. Taro spareribs, fish head with pepper sauce, sauce meat, and chicken hot pot with fungus mushroom are highly recommended.

■ Tang Master's Tujia Outlets
● Chinese name: 武陵源唐师傅
● Add:Wuling Ave. Wulingyuan District, Zhangjiajie
● Average price per person: 55 yuan
● Tel: 0744-5557779
● Transportation: Take bus 1and get off at Genli Supermarket
Tang Master's Tujia Outlets is near to Tianzi Mountain Hotel. It is an old restaurant in Wulingyuan. The dishes here taste great with affordable price. Fish in Sour Soup is the signature dish in this place.

■ Golden Phoenix Restaurant
● Chinese name: 武陵源金凤凰餐厅
● Add:Wuling Ave. Jingxi International Hotel . Wulingyuan District, Zhangjiajie
● Average price per person: 60 yuan
● Tel: 0744-5558328
● Transportation: Take bus 1 and get off at Jingxi International Hotel
Golden Phoenix Restaurant is one of the most popular restaurants in Wulingyuan, both tourists and locals come here, so it gets very busy at dinner time even during the off-peak season. The most well-known food is Braised Duck.

★ Some Western Restaurants In Zhangjiajie
■ Pullman Hotel
Add: Huajuan Road, Wulingyuan Downtown
■ Samantha Resort & SPA
Add: No 8, Baofeng Road, Wulingyuan Downtown
■ Xin Cheng Western Restaurant
Add: Dayong Road, near to Tujia Folk Garden
■ Wulingyuan Hotel Restaurant
Add: No.192 Wuling Avenue, Wulingyuan District

★ Some Popular Local Food
岩耳炖土鸡:Stewed Locale Chicken with Rock Fungus
土家酸汤鱼:Local Sour Soup Fish
酥皮葛根挞:Kudzu Tart
土家特色三下锅:Local Hot Pot with Preserved Pork, Bath Chap and Pork Intestine
特色飘香猪手: Marineted Pig Feet
铁板牛肉:Sizzling Beef
娃娃鱼汤:Giant Salamander Soup
长豆角炒茄子:Long Beans fried Eggplant
紫苏煎黄瓜:Perilla fried cucumber
宫保鸡丁:Kung Pao Chicken
五香鸭:Spcied Duck
时蔬:Seasonal Vegetables