Baofeng Lake Scenic Area is one part of Wulingyuan Scenic Area, situated at the back of Baofeng Mountain, with an area of 274 hectares, the area comprises Baofeng Lake and Yingwo Stockaded Village, Baofeng Lake is the only place you can enjoy water when you are in Zhangjiajie.

★The Fast Facts on Baofeng Lake
■ Chinese Name:宝峰湖
■ Entrance Fee: 96RMB/PAX
■ Time needed: 2-3 hours
★ Main Scenic Spots
Baofeng Lake features beautiful natural scenery,where there is abundant water and fresh air. Green trees and stone peaks of various shapes surround the lake. There are also marvelous running waterfalls pouring out like troops from heaven descending to the world. Some 20 sight-spots spread around the Baofeng Lake, including Baofeng Waterfall, One Line Gorge, plank road built along cliffs in clouds, Hawk Nest Village, and Baofeng Fairy Lady. Located at the mouth of the Baofeng Lake, the Baofeng Waterfall pours down from midair of a hundred meters high with thunderous sound, and 40 minutes boating in the lake is really a enjoyable way to relax yourself when you are in Baofeng Lake.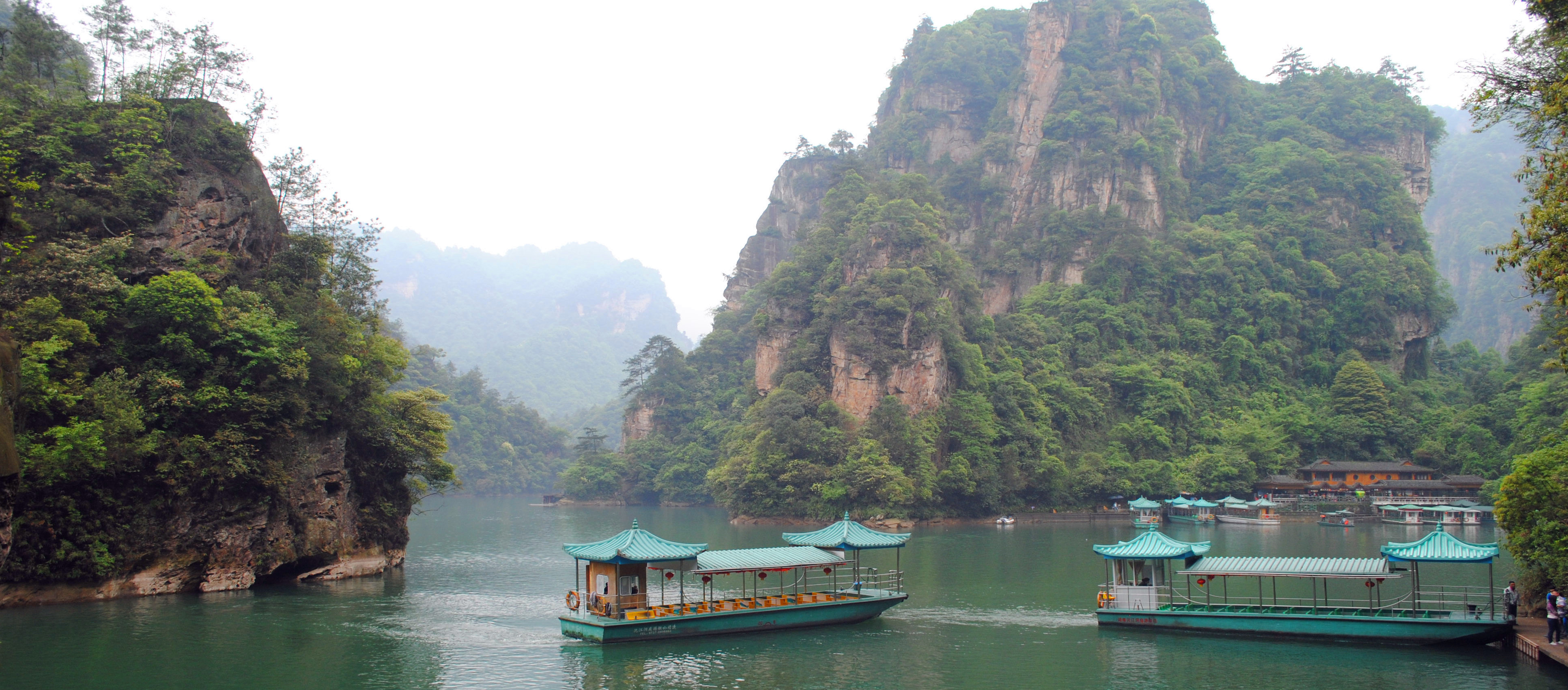 Yixiantian Valley, less than an average of four meters wide, is another wonderful scenic spot. Only a line of the sky can be seen from the bottom of the valley, which resembles a seemingly long and thin silk thread. The length, narrowness, and depth here are rare for national scenic spots.
Baofeng Mountain is nearby and points straight up to the sky. Yingwo Stockaded Village is strategically located in the terrain and is difficult to access. By reaching the top of the mountain, you can look down upon many smaller peaks. Within the green background is Baofeng Temple, gracefully ancient in color and style, half hidden and half visible, and radiating the ethos of a religious culture. Lake Baofeng lies calmly, like a goddess, outstanding and pure, projecting a sense of peace. If you boat in the lake, you can see the reflection of the marvelous stone peaks and green trees in symmetric display, creating great pleasure for visitors.
Mandarin Duck Island, the water temperature in Baofeng Lake is a constant 10 degrees. Even when Baofeng Area is in the middle of the coldest of winters, the lake will remain unfrozen. It is rated on the China National Scale as a second grade protective site for animals and Mandarin Duck's in particular to spend their winter of rest here. Every year, on the 10th of January ( lunar), a lot of Mandarin Ducks will come to Baofeng Lake from the north, turning this place into a very beautiful scenic spot and is always sure to have many fascinated eyes in attendance. The Mandarin Duck likes to spend the winter months at Baofeng Lake not olny because the water temperature is not too cold, but also because the water is very clean, it has no pollution whatsoever. Moreover, they are able to find a lot of food here to feed their hunger and protect themselves from the cold in the air. The scenic area and villagers do a good job of protecting those animals and Mandarin Ducks that decide to inhabit for the winter, ensuring that they are never subject to any form of deprivation. Rightly so it has become an animal sanctuary /paradise for the animals.
★When to visit it
Almost any time of the year is good for visiting Baofeng Lake, there will be less water in winter. Baofeng Lake will be very pretty in spring and autumn, the flowers and tree leaves are reflected in the lake, Baofeng Lake turns a colorful world.

★How to get there
From Zhangjiajie City Arrive in Wulingyuan first, then take pubic bus NO.2 get to Baofeng Lake.
From Wulingyuan Take pubic bus NO.2 get to Baofeng Lake or taxi.
★How to plan a tour to Baofeng Lake
There are 2 ways to enjoy Baofeng Lake: 1, Walking along the plank road built in the precipitous cliffs, you will find the Baofeng Temple, The Hero Bridge, Hawk Nestle and so on, then take boat to enjoy Baofeng Lake for 45 minutes; 2, You can take tourism bus to reach the top of Baofeng Mountain, and take boat to explore Baofeng Lake.

★Ground Water and Underground Water
Ground water includes all water that is on the surface of the Crust and open to the air,it general can be found as rivers,glaciers,lakes and swaps.The water flowing into river us called surface runoff.Ground water can supply us power resources and a means of transportation,the water can also be used for drinking and cleaning of metropolitans,as well as meeting needs of industry.
Underground water includes a part of rainfall and ground water seeping into soil and water flowing along rock fractures and soils in a variety of depth.Underground water moves in rock fractures,karst caves and rock pores,probably pours out of the ground as a form of spring,or goes to the ocean directly.Underground water can be classified as aeration zone water,phreatic water and confined water based on burial conditions;and as pore water,fissure water and karst water based on burial media.

★Nearby Attractions:
■ Yellow Dragon Cave
Address: Suoxi Valley, Wulingyuan District, Zhangjiajie City
Yellow Dragon Cave is a typical Karst cave, consisting of an area of irregular limestone in which erosion has produced fissures, underground streams, and caverns.
■ ZhangjiajieNational Forest Park
Address: Zhangjiajie National Forest Park, Zhangjiajie City
Set up in 1982,Zhangjiajie National Forest Park is the first national forest park in China, which is well-known for the " three thousand strange peaks and eight hundred great water".