Mengdong River Rafting--Mengdong River is located 80 kilometers southeast of Zhangjiajie City, 15 kilometers away Furong Town, nestled among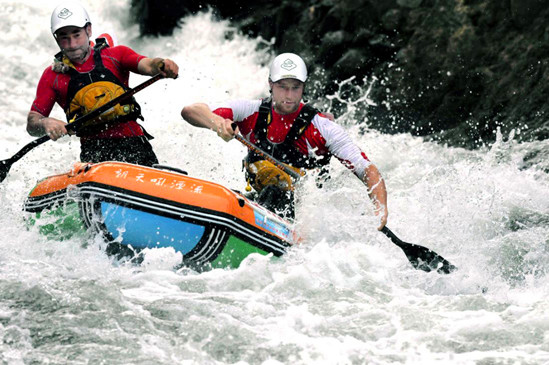 numerous mountains, a remote canyon towering limestone cliffs, Mengdong River rafting is ranked among the top ones in China. The whole floating distance of Mengdong River is 47 kilometers with the 17 kilometers most exciting upper stream drifting. It is reputed to be the world's NO. 1 spot for whitewater rafting.The high mountains and deep valleys of Mengdong River are peculiar and severely beautiful. Its flying waterfall and running spring are mystical and unfathomable, and its cliff and cavity are exquisite and magnificent. The famous "peerless drift current" is here. A little boat drifting down the water is found between bottom of the valley and top of the wave. It may fight against the wave and sandy beach, or play with the water.
Mengdong River Scenic Spot is made up of four parts, Wangcun , Mengdong River, Bu'er Door, and Laosi City. These four sceneries interlock and with individual features. The ancient Wangcun Town is the site of Youyang City in Qin and Han Dynasties, the door of waterway travel of Mengdong River, and the south gate of Mengdong River Scenic Spot. Here, the transportations of railway, waterway, and highway are convenient.
It is said that more than 190 kinds of animals currently inhabit the gorge along the river, if you are lucky enough, rare animals like monkeys may appear on the shores, birds and colourful butterflies will usually accompany you during the entire rafting trip.
The Mengdong River Rafting site has been opened to the public for more than 10 years, you will meet some very skilled and experienced local boatman here, who will help ensure that you have a happy and safe drift. It is surprising but not dangerous. We may describe this in sentences, "smart boat gets out from precipice and the glittering water stirs the ninth heaven." In the bended river, you can sing songs, play in water, or fight against waves, just relax and you will be enchanted by the beautiful scenery and feel joyful.
■ Best season: Summer.
■ Recommended visiting time: 3 hours
■ Opening hours: 9:00am--16:00pm
■ Admission fee: 160RMB/PAX

★ How to get there from Zhangjiajie
There is no direct public buses or train you can take to Mengdong River from Zhangjiajie, first, you need take bus in Zhangjiajie Bus Station to Furong Town, which will take you about 2 hours, then change to take bus to Mengdong River. The most convenient way to get to Mengdong River from Zhangjiajie is by renting a private car.
★Nearby Attractions:
■ Furong Town
Address: Furong Town, Yongshun Country
Furong Town,former name is Wangcun,is a tourism resort which integrally combines the natural scenery and ancient ethnic customs. It is one of the best attractions to seek peace and visit classicism and it is also the portal of Mengdong River scenic.
■ Red Stone Forest Park
Address:Guzhang County
Red Stone Forest is a newly opend scenic spots in Guzhang County,The stone color is changeable, and change with the weather, time and season.